PS: The backpack icon above is the menu on mobile
Roleplay Profile of FallenAngel16
Threads:
14 /
Posts:
19926 /
Profiles:
8
Status:
Offline or lurking
Last Seen:
311 days ago
Joined:
10 years ago
Shiny Objects:
354279
Role Play Profile
Status: Off and On
Name: Call Me Fallen / Age: 26 / Orientation: Hetero
Because she's Friggin Amazing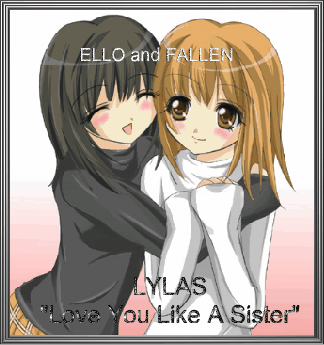 NEW Longest Post FROM Master/Slave Remake
3418 Characters
640 Words
That day had started out like a very familiar dream, the seller would come to the large cage Almira sat in, unlock it and say she was free to go, but today it was real. There was a tall, pretty woman with long purple hair standing next to him. She made all the girls up before they went to start their "new" lives. Almira actually smiled when the seller took off the shackles around her feet, he left the shackles on around her wrists and she happily went with the woman who would make her pretty.
Almira's body was waxed totally nude and every inch of her was washed clean, her hair was washed, straightened and loosely curled until it fell in waves. She looked in the mirror and didn't even notice herself, except for her ocean blue eyes that stared right back at her. They were the same color of the gold necklace around her neck, a gift from her mother when she turned 16...Not too long after her mother would pass. Her skin was like her mother's, white as snow and her hair just as pale as her complexion, she looked like an angel, "Snowflake" the seller called her.
Finally it was time to get dressed. First she was given, white lace underwear and sheer white stockings. She was then given a skimpy outfit, a white corset dress, it barely covered her ass and the corset pushed up her boobs. She hated it, and thought it made her look like a streetwalker. She sighed in relief when she was given a gorgeous white coat that only the richest of women around town wore, The coat went past her knees and was trimmed with sparkling white fur. Almira was given white gloves, a white scarf and a matching hat. The woman finished her off by adding pink lip gloss and a little blush to add some color to her face. A thin line of black eyeliner was placed around her eyes along with some mascara to make her eyes pop, and finally white platinum leather high-heeled boots.
Now she was ready to go, she looked like the finest porcelain doll.
"Today is the day you get lucky Snowflake, remember to make your master proud and do as he says. He's very rich, so you must do you best to fit in with that crowd and remember to do anything and everything your master asks."
These were the sellers last words as he closed the door to the limo and she was taken off and driven away from the home she had known for the last four years.
Almira stared out the dark window, smiling as they passed so many magnificent, large houses which were all lit up in the finest Christmas decor. She thought the car would stop at any one of them but they continued to drive and drive way past the cluster of rich houses until there were nothing but trees. Finally the houses continued to get further and further apart, the last house would be a couple of miles away from the next. Almira sighed, how rich was this guy?
Finally they turned onto a path that kept winding and winding until finally they were in front of the largest mansion she had seen the whole ride. Almira's breath was taken away and for a moment she was scared, this couldn't be it. What could anybody in that house want with her? It was breathtaking and so intimidating at the same time, she wanted to run toward and away from the house at the same time.The driver opened the door taking the small bag that held some of her belongings. Almira looked up at the large house and then at the vast night sky, she swallowed hard and followed after the driver. This couldn't be real.
Bye Bye Now
Roleplays
$
Love Has No Color (closed)
$
My Boyfriend's Roommate [1X1] Closed
+
For Yearningmoxie
$
Master/Slave Remake (Closed)
+
Paradise ~Dance RP~ (CHECK RECAPS)
+
Paradise Talk (Check RECAPS)
$
Dr. Feel Good
$
Killing Me Softly [Closed]
$
Live.Love.Dance [1X1] For RomanticBeast
$
Your Love Is A Song [1x1] -Closed
+
Living in The Shadows - CLOSED
$
Master/Slave (closed)
$
What Would You Do? (For Caffeine-Queen)
+
Paradise 1X1 (For Fallen and Malachi)